Okay. I've been reading magazines and searching the stores since January looking for the perfect items that will update 2008 wardrobes. There are a lot of great items available so the process of choosing a few pieces to update and expand a wardrobe can be overwhelming. Trust me, it doesn't have to be.
Before you hit the malls and boutiques you might want to go through your closet...no clean out your closet, pitching items that are no longer current, anything that cannot be repaired, items that haven't been worn in the last year, and items that no longer fit your lifestyle. Cleaning out your closet will serve several purposes:
This will allow you to reorganize. That will only save you time and effort when getting dressed.
You'll reacquaint yourself with your wardrobe and clothing pieces that you've forgotten.
You'll be throwing out some items, and then donating others to charity. Either way you'll create more room in your closet.
You'll be able to see where the holes are in your wardrobe.
When I recently cleaned out my closet I discovered an amazing pair of shoes that I'd forgotten about. I'd purchased several items in orange last year that will fit into this season's colorful trend. I also rediscovered not one but two safari style jackets that fit into another of this season's trends. I'll also confess that I no longer face the avalanche awaiting me as I attempted to get items out of the back of my closet.
After you've finished sorting through your own closet, you should see what you'd need to bring your wardrobe up to 2008 spring standards. I honestly believe that most of us only need a few things to get current. Remember you should already have basic pieces that make up the foundation of your wardrobe. Consider your basics when assessing your own wardrobe situation.
I've made a few notes on items and trends that are considered trends for Spring 2008. I'm assuming that many of you already own several of these items already. I'll make mention of some items that just aren't you. But then I may give you some ideas that you think will fit in not only with your current wardrobe, but also with your personality and lifestyle. Who knows, you may even think out of your comfort zone? Style means looking good your way, so take what you can, and tuck the rest away. Here's my list for some of the most versatile updates to your 2008 Spring wardrobe.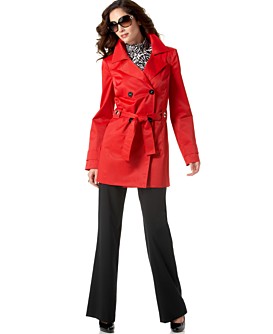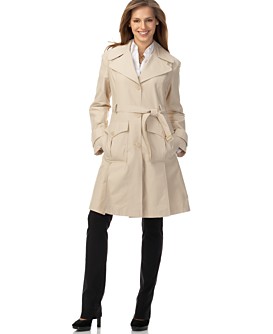 TRENCH COAT
I'm sure that many of you already own a good trench coat, primarily because you need a coat to transition you from winter to spring and summer. If you don't already own one remember that classic kakhi will transcend the seasons as it's always in. The 2008 trend is to go for bright colors in your trench. If you already own a good basic trench, you might want to consider adding a second one in a bright color, and a different length for variety.
SAFARI LOOKS
This may be one of the easiest trends to incorporate into your current wardrobe.
While kakhi is where most of minds go when we think of a color related to the safari trend, the color palette is much more expansive. Think the colors of the desert like muted blues, greens, oranges, and purples. This certainly gives you more to work with. Think of adding these pieces with the traditional kakhi. Do you own a pair of cargo pants or kakhis? Then you already have two
pieces that fit right into trend. I've seen safari style jackets all over this season. You can go for something very tailored that's office appropriate, or something much more casual and unstructured for weekend wear. Though honestly, the safari jacket is so utilitarian, that unless you work in the most conservative environments, even a very casual style can be dressed up to be work appropriate. In addition to the safari jacket, you'll also see several cargo and trench style shirtdresses. In traditional kakhi these items are not only on trend for this season, but can also be considered a classic piece for seasons to come.
ORANGE
Yes bright orange Orange! Surprisingly this is a color that works on most complexions. If bright orange is too scary for you, you might consider a softer shade of orange like cantaloupe or "sherbet" orange. And I'm not talking about investing in major pieces (though I'm lusting after the bright orange textured cotton jacket at Banana republic), try adding an orange sweater or tee shirt. Imagine how either of these would brighten up a traditional kakhi safari jacket. If orange is still scaring you, think accessories
like the crinkled cotton scarves that can be found all over. Or try a strand of bright inexpensive orange beads. Merely the addition of a minimal amount of bright orange will bring you current.
BLACK & WHITE
For me black and white is a classic, especially in the springtime. The combination is always crisp, clean, polished and appropriate. What makes the combination new for this spring are the geometric prints. You'll find them on dresses, skirts, and tops. These prints are fairly easy to incorporate into your existing wardrobe, especially with your basic black and white pieces. Think out of the box and don't be afraid to mix them with other neutrals like kakhi, and adding a touch of color can add just the right accent.
TRIBAL INSPIRED
Tribal prints were all over runways this spring. I've seen these prints on a number of items, both clothing pieces and accessories. As with any other type of print, make sure that it doesn't overwhelm you. These prints mix beautifully with neutrals. Quite by accident I went shopping outside of the traditional retail box. I was walking down Hollywood Blvd. and passed an African Import shop that I hadn't been into in years. The authentic jewelry and clothing items spoke to me, and prompted me to explore other importers of African merchandise here in the Los Angeles area. I've found some incredibly beautiful and unique items. While there are several items available in your traditional clothing stores, you may want to explore African importers in your area for the real deal.
There are several other trends this season (Ombre or shades of color, color blocked dresses, painterly prints, and ruffles, just to name a few), I've concentrated on the trends that I feel are the easiest to combine with your existing wardrobe. Before hitting the stores, make sure that you make yourself a budget so as not to overspend. For the trendiest items (a tribal print top for example,) you may choose to spend less, while spending more on classic pieces (like a classic trench coat).
To guide you, make yourself a "look book " of items and styles that you like to guide you as you shop. I always enjoy making a seasonal "wish list". This is fun, and will help keep me focused once I do start shopping. Below is my own wish list for this spring. It's pretty short and sweet.
As I always say, do your homework, set a budget and stick to it, and most of all have fun. Best wishes for a very stylish Spring 2008!
My Spring Wish List
After going through my closet recently I discovered several items that were perfectly on trend for spring 2008; not one but two safari jackets (different fabrics, colors and styles), and several tops in bright orange (most purchased last season) and hardly worn. As much as I love the idea of a brightly colored trench coat, I already own two, one full length and one 3/4 coat. I just can't justify buying another. So my wish list this spring is short and sweet.

1. Banana Republic's

Cotton Textured Jacket in
Marvell Orange.

I've loved this jacket since the first time I saw it. It's tailored beautifully. I adore the orange, however, I'm wondering if it's too orange. It's incredibly bright in person. While I can wear bright orange, I'm questioning whether or not it's too bright for me. The jacket also comes in black (in larger stores) and cream. I'm seriously considering the black that will transcend the season, and can be used as a transitioning piece as we head into fall. I'm wondering if this color look dated, and or faded next season. I see the jacket in black in my future, and will consider the Marvell Orange as well when the item goes on sale. We'll see.
(Yes, I did eventually get it in black and am enjoying it.)
2. Liz Claiborne's
Jacksen Sling back Pump in
Black & Cream (Leopard Print)

I'd selected another platform sling back, but again after exploring my closet, I discovered that I had a few pairs of shoe in the color I was considering. These I found by accident. They're out of my usual norm that will bump up my personal style a few notches. This is a sexy shoe whether it's worn with jeans or a LBD.
By the way, leopard goes with nothing, so it goes with everything

!
3. Ann Taylor Loft's
Kakhi Trench Style Shirtdress
I'd considered another Kakhi shirtdress from another designer, a dress almost identical to the Ann Taylor Loft dress. There were subtle differences, but it was basically the same dress. What swayed me to the Ann Taylor Loft dress was the price as their dress (when I found it) was on sale for a third of the price as the designer dress. This is one piece I've already purchased...and it looks better on. The neutral color and classic styling will make it a "go to" piece this spring.
4. Tribal Inspired Print Tops and or Accessories
While I don't have anything specific in mind I know I'll have no trouble finding something to my liking. In addition to looking in my favorite stores, I'll be looking in African Import Stores.
(I just found a wonderful straw tribal inspired clutch at Cost Plus World Markets!)
5. Rikki #2 Pleated Tote (Red)
Shopsueyboutique.com
When I've considered tote bags in the past, I always end up buying a black bag. Now that I need a new tote, I'd like to have a little more fun. Red is the new neutral that goes with almost everything. The bag is not too large (and with my small frame that's a plus).


I've done my research. One good thing about not shopping right when the new season's styles come into the stores, is taking advantage of sales four to six weeks later. I'm pleased that my picks for this season will take me beyond this spring, and help me transition into fall. Who says smart shopping can't be fun?
Check out the Shop Doc Podcast. I'll be discussing how not to become a fashion victim and spring trends in makeup.