Fall Trend: Animal Prints
Animal Prints are a major trend for Fall 2009.
While these wild prints are always available, this season they are prominent, found on everything from dresses and jackets to clutches, and patterned tights.

I've always loved animal prints (in moderation of course) because while the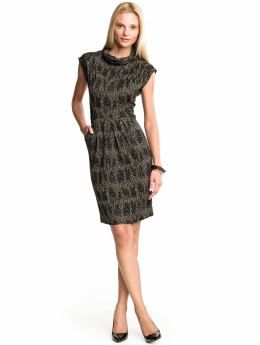 prints don't go with anything, they tend to go with everything. Strange but true. If you have never ventured into the world of animal prints, here are a few things to keep in mind.
Never Go Head to Toe Animal Print. The effect will be more Halloween costume than fashionable. Add solids with your accessories and complimenting pieces.
Women's Apparel: Animal-print cowlneck dress: new arrivals Banana Republic
Don't mix your animal prints. There's no need to look like a
walking zoo.
Keep the size of the print in proportion to your own size.
apt. 9 Leopard Scarf, Kohl's
As with any trend, accessories are a great way to participate without breaking the bank, not to mention that trendy accessories may have a longer life, stylishly speaking.
You'll find a menagerie of animal prints at every price point.
It's All About Good Service
One of the best shopping experiences I have had lately was at a kiosk in a Los Angeles mall. I was looking for a pashmina scarf in a specific shade of moss green. I had looked in just about every store that sold scarves to no avail when I stumbled onto the pashmina kiosk as I headed toward the parking lot. The lovely lady manning the business, (I'm sure that she was the owner) greeted me warmly and asked if I was looking for anything special. When I described the color, she immediately pulled out several different scarves in various shades of mossy green. She began to try the pashminas on me. Together we rejected two before finding just the shade for me, a shade slightly brighter that the one I'd envisioned. I remember her saying, "You see this shade compliments your skin tone, while the other lies flat." I was at the kiosk for fifteen to twenty minutes as she assisted me by showing me different colors and teaching me new ways to tie the scarves. There was never any pressure; in fact, the entire experience was very pleasant. She offered to give me a special price on two, but I honestly only needed the one. However, I'll probably be visiting her again around the holidays. She can help me with at least three different Christmas gifts. Spending a little extra time with me, and making me feel special has made me a loyal customer.
For me it's always been service that will bring me back to a store. I've walked out of stores that have been lacking in their customer service, especially when I'm there to spend money. Years ago, I visited a Victoria's Secret to purchase lingerie for my wedding. On a Tuesday afternoon, I was the only customer in a store where five employees were busily chatting amongst themselves as they unpacked new merchandise. Not one of them acknowledged my presence. I left and went into what was then Bullock's where I received some excellent one on one service, and probably spending more than I'd planned. It was years before I set foot in that Victoria's Secret again. Things were very different. I learned that the store had a new manager who made customer service a priority, and I've enjoyed shopping there ever since.
Good service should be a benefit of being a good customer. In this economy, it's difficult to part with hard-earned cash, and businesses should be grateful to get my business. There are so many retailers from which to choose. When I'm talking about good customer service, I'm really talking about the little things. A greeting as I enter a store is always nice but not expected, as I understand that a smaller staff may mean that employees are off assisting other customers. I enjoy working with employees that are warm and personable and take pride in their merchandise. I am always thankful when a store's staff is knowledgeable about fits and sizes. They are not afraid to make suggestions or to offer opinions. I'd rather be told that yes, my butt does look big in those jeans. This is usually said kindly. "Why don't you try our so and so fit? I think it may be more flattering for your body type." A little honesty is better than discovering I'd made a mistake, or worse, having someone else call the mistake to my attention. I love it when an employee will take the initiative to call another store to see if they have an item that out of stock. This extra effort will always keep me coming back.
Over the years, I've found several stores that consistently have good...no, great customer service no matter where you are.
Banana Republic
Ann Taylor Loft
Nine West
Mac Cosmetics
Nordstrom
The Gap
The Limited
Goodwill (some of the friendliest)

While good customer service is something that you always hope to experience often,
there's one more thing. Strive to be a good customer. How do you expect to be treated while shopping? With courteousness? In a warm friendly manner? With respect? If so, this is how you should treat hard working sales associates. Contrary to popular belief, many of these associates are earning an hourly wage, not a commission. A little common courtesy and respect may generate excellent service and the most positive shopping experiences.
Thrifter's Diary
Is it possible to find deals, steals, and quality merchandise at a thrift or charity store? Yes! Check out some of my recent finds.
9/24/09
MIA Fringed High Heeled Boots
$7.99
Goodwill, Los Feliz CA
Condition: Very Good
I never would have considered buying these amazing boots in my real life, but my thrifting self could not resist them! I love the vintage look and can't wait to wear them with skinny jeans and vintage turquoise jewelry. I love the seventies vibe!
Coming soon... more fall finds and thrifting treasures!