1.
The Limited.
Years ago The Limited was my favorite store. I could always find my wardrobe staples as well as items that were current, on trend and of course reasonably priced. I purchased my very first suit at The Limited. But as time went on my wants and needs changed and The Limited no longer catered to my personal style. That and the fact that so many Limited stores closed. The one nearest to me closed several years ago and I hadn't set foot in a Limited in years. I didn't even know if they still existed.
While visiting Chicago last year I found a Limited (the Oak Brook Mall store) and was pleasantly surprised. The store had been reinvented. There was energy, excellent displays and items that inspired me. I had originally gone into the store to kill time, but ended up shopping and purchasing several items. I especially liked their tops and accessories. Back home in LA, I have to travel thirty-five minutes to the closest Limited, but I don't mind. The customer service in the South Bay Galleria store is stellar! The associates are attentive and knowledgeable about their merchandise. They are not afraid to make suggestions, or to offer honest opinions. While their regular prices are good, The Limited runs great sales and specials.
2. Mac Cosmetics/Mac Stores
Mac makes some of the best cosmetics available to consumers. I first was exposed to Mac through professional makeup artists when I was working in the industry. In my opinion MAC makes the best concealer, lipsticks, and glosses.
3. Nine West Shoes/
Nine West Stores.
For years Nine West as offered affordable well-made and fashionable shoes. They have good and frequent sales, and their online store is easy to maneuver. But for me, I love the service I receive at Nine West brick and mortar stores. Their associates are friendly and have great suggestions. They know their stock and are aware of nuances with different styles. (The last pair I bought was a half size smaller than what I usually wear. The associate had told me to try the smaller size first.) They have often helped me locate shoes in other stores and have arranged to have shoes delivered to me when they have been out of my size. Little things yes, but little things that are not done automatically by everyone. These little things keep me coming back.
Test Driving Gap 1969 Premium Jeans
Denim is a wardrobe staple for most American women. Personally I've amassed several pairs of jeans that I rotate depending on my destination or occasion, mood, and the rest of my outfit. I have a lot to choose from, but I do have a favorite pair. I love my Gap Classic Boot cut jeans. This is the style that has always worked best for my body. If I had to get rid of all but one pair of jeans, I'd keep the Gap Boot cuts. They are always comfortable, versatile, and affordable. When I heard that Gap was introducing Gap 1969 Premium Jeans this fall. I was curious. There were new fits and washes of previous styles, and they hailed the line as the best fitting premium jeans in America. That was a pretty big statement in my book , and I was going to have to try these jeans for myself.
Before I continue, let's discuss the term premium denim. My understanding is that premium jeans are made with better quality denim that the wearer can easily feel. The jeans are made with custom construction details and design touches. You pay for these touches, with many premium brands starting at $150.00 a pair. The new Gap Premium jeans start at around $60.00.
I test drove five different styles of the new Gap 1969 Premium Jeans, and here's what I found.
The denim feels amazing! It's soft and comfortable. The fits were very good. All five styles that I tried were perfect through the waist, hips and thighs.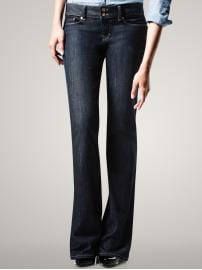 There is style for everybody. My hands down favorite was the
Perfect Boot ($69.50).
They looked great as they lengthened the legs and lifted the bum. This style will flatter many body types. I especially like the wide waistband. A darker wash will certainly make these jeans appropriate for casual work environments.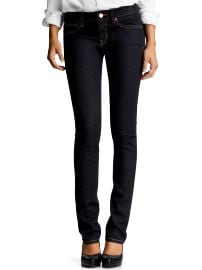 A close second for me was the
Always Skinny(69.50)
. Despite my own... generous booty, these jeans made my legs look long and slender. The rear view was also flattering. I found these jeans surprisingly comfortable.
All styles come in a variety of washes. Some styles are available in a distressed option. Many of the styles feature a low rise. Don't let this scare you. The low rise isn't very low. To me it felt comfortable.
A few years ago I purchased a pair of the Gap's Long and Lean Jeans. I prefer the previous incarnation to the new style. The older design made me look both long and lean while the new style (while fitting well) just hung on my body. But remember this was my body with its own specific quirks and idiosyncrasies You'll have to try these new styles for yourself.
If you are in the market for new jeans this season, I'd try the new Gap styles. While they're a little pricier than most Gap jeans of the past, they are certainly affordable and will become a staple of any woman's wardrobe.
Thrifter's Diary
Is it possible to find deals, steals, and quality merchandise at a thrift or charity store? Yes! Check out some of my recent finds.
8/31/09
Coach Handbag
$39.99
Goodwill: Mid-Wilshire District, Los Angeles CA
Condition: New with tags.
Recently, while visiting an area Goodwill, I saw a small cute, black leather bag in the glass case at the front of the store. The hardware looked solid, sturdy, and familiar, so seeing the Coach logo was no surprise. Seeing the retail store's original tags was. This turned out to be one of Coach's Soho Hobo bags. $39.99 for a brand new bag that retails for around $200.00 was more than fair, especially for a classic bag that with proper care will bring me years of use.
9/12/09
Velvet Betsy Johnson Jacket
$29.99
Goodwill, Los Feliz, CA
Condition: New
This long double-breasted jacket is very Rock-n-Roll. GW has allowed me to become trendy affordably!
Coming soon...Even More things I'm Liking, and of couse more of the Thrifter's Diary. Shop Smart!